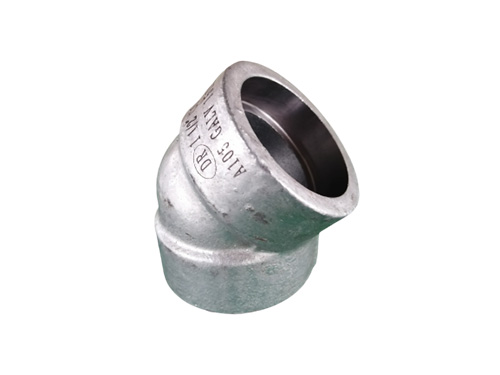 45 degree galvanized threaded elbow (also known as threaded elbow) is a kind of pipe fitting which changes the direction of pipeline in the pipeline system. According to the angle, there are 45 ° and 90 ° and other abnormal angle elbows such as 60 ° are also included according to the engineering needs. The materials of threaded elbow are cast iron, stainless steel, alloy steel, malleable cast iron, carbon steel, nonferrous metals and plastics.
The 45 degree galvanized threaded elbow is composed of screw mouth and bending part, which is characterized in that there is a screw groove on the screw port. In the pipeline system, the threaded elbow is a pipe fitting that changes the direction of the pipeline.
The pressure of threaded elbow is 2000lb, 3000lb and 6000lb. The main manufacturing standards of threaded elbow are GB / t14383, ASME B16.11 and BS 3799
Process: sawing, heat treatment, die forging, machining.