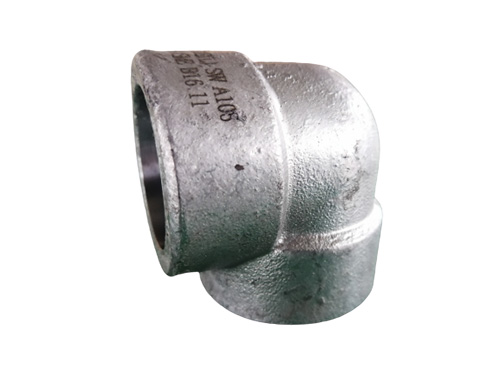 Galvanized socket elbow is a kind of high-pressure elbow pipe connecting fittings,which is mainly made of round steel or steel ingot,and then processed by lathe.It is a kind of forged socket pipe fittings.
Common manufacturing materials
The socket pipe fittings are galvanized with raw materials.
The common grades of carbon steel are Q235,20×10,A105,etc;
The common grades of stainless steel are 304,304L,316,316L,321,00Cr17Ni14Mo2,etc;
The common grades of alloy materials are 15CrMo,1Cr5Mo,16Mn,12Cr1MoV,F11,F22,10CrMo910,etc;
Other materials:copper alloy,nickel alloy,etc.
Precautions for the use of galvanized socket elbow:the nozzle size of socket pipe fittings is divided into two types,i.e.the size of a series(i.e.series I)nozzle and the size of B series(II Series)nozzle,or in other words,the British nozzle(i.e.a series size)and metric nozzle(i.e.B series size).In addition,some standards directly stipulate that the nozzle size is a series.These standards include ASME B16.11 and sh3410 standards.There are two sizes in some standards,which need to be determined during production and processing.These standards include GB/t14383-2008,GB/t14383-93,hg21634,etc.if the user does not provide which nozzle size to select,it is generally a series by default.However,it should be noted here that hg21634 standard,if it gives a nozzle is a,B series nozzle size should be selected.
Galvanized socket elbow is mainly used in petrochemical,medical and health,electric power,aerospace,fire protection,metallurgy,shipbuilding,gas,nuclear power,environmental protection and other departments and fields requiring high pressure and accurate size.