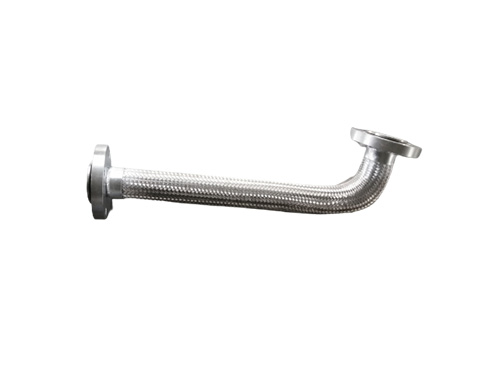 The 90 degree metal hose is used as wire, cable, wire and cable protection tube for automatic instrument signal and civil shower hose, with specifications from 3mm to 150mm. Small diameter metal hose (inner diameter 3 mm-25 mm) is mainly used for sensor line protection of optical ruler and industrial sensor line protection.
The 90 degree metal hose is generally composed of bellows, mesh sleeve and joint. Corrugated pipe is the body of metal hose, which plays a flexible role; the net cover plays the role of strengthening and shielding; the joint plays the role of connection. For different requirements, they are connected in different ways: the bellows, the net sleeve and the joint are connected in the form of welding, which is called welding type; the connection in the form of mechanical clamping is called mechanical clamping type. In addition, the combination of the above two methods is called mixed type.
90 degree metal hose products include oil suction hose, steam hose, sandblasting hose, acid and alkali hose, food hose, oxygen blowing hose and various special-shaped hose. It is widely used in machinery, chemical industry, petroleum, metallurgy, food and other industries.